Click HERE 

for the 

Ski for Youth program 

Registration page 
The Vision
Russell "Spike" Berg, had a vision. His vision was for hundreds, and perhaps thousands of people to become skiers, like himself. Spike was a tireless promoter of the skiing sport, not for his personal gain but to share the joy of gliding down a ski slope. In order to accomplish this vision, Spike thought that offering inexpensive lessons and equipment would allow new disciples to try the sport, and encouraging them to succeed.
Origins
Skiing "started" in the Wausau area in the 1920's and 1930's. Civic minded people held "Winter Frolics" that included cross country ski races, dances, ice skating events among others. Local hills were groomed for gliding down the slope, or even small jumps on wooden skis. Rib Mountain was just a place to go for longer walks up old logging roads for a long glide down.
Spike Berg – the skier (1923-2007)
Russell Berg was born to Hans & Laura Berg, in Wausau, and his first skiing was probably on the gentle slopes of the Wisconsin River bank close to his home. Hans his father, a Norwegian immigrant, encouraged (demanded) that Spike become a ski jumper, which called for some level of daring at the time. A natural athlete, Spike was a different person when he "strapped on the boards" (skis)As Rib Mountain developed into a full-fledged ski area, just before WWII, Spike joined the National Ski Patrol. During WWII, Spike served in the famed 10th Mountain Division as a sergeant. He trained in Camp Hale, Colorado along with elite skiers from across the nation. He survived a serious wound in battles with the Nazi Alpenkorps in Italy. After the war, veterans of the 10th Mountain Division, became visionaries and leaders in their local communities in support of skiing as we know it today. Spike returned to Wausau and his beloved slopes of Rib Mountain, Spike served with the National Ski Patrol. He became a certified Ski Instructor, and eventually the Director of the Ski School. But Spike wanted to do more.
Any Slope with snow is good enough!
Along with good friend and 10th Mountain Veteran Chuck Luedtke, Ski instruction began on the slopes of the American Legion Golf Course (see appendix) in the late 1940's
Ski for Youth the early years
In 1971, Marathon County opened a ski area named Sylvan Hills, with four gentle runs, and three rope tows. Spike sensed that this was an opportunity to get families and children; especially children to try the sport he loved at an affordable buy-in price. The Ski for Youth "concept" kicked around for a few years at Sylvan Hills prior to getting its
official name. Spike contacted local companies to sponsor or help underwrite some of his ideas. He started a free ski school, with unpaid instructors / volunteers, that opened the skiing door. Over 11 years, Spikes's volunteers gave 9,611 FREE lessons. Spike was never happier that to look at those bundled up kids, with their laughs and mile-wide grins as they learned to master their skis and zoom down the slopes.
Ski for Youth Today – going strong
Today, Spike is no longer with us, but Ski For Youth is still going strong in his memory with a commitment to keep "the vision" of providing access and an opportunity to glide down the ski slopes available to all youth. Three and maybe four generations, and thousands of skiers have been impacted by this program and the selflessness of the volunteers who carry on the spirit. If you listen closely, you can still hear echoes of Spike's joyful yodeling as he watches youngsters on the slopes.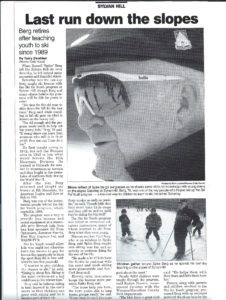 Further Reading – Research
To learn more about Skiing in Marathon County and other topics we suggest:
The Rib Mountain Ski Club
The Marathon County Historical Society
The Tenth Mountain Division – Website

Acknowledgements – Updated 11-27-2017
Original Article – Dennis Holzem
2017 Researcher / Collator – Carmelle Colcord
2017 Revisions, Inserts and Updates to "Origins"  – Philip Berg, son of Russell W. "Spike" Berg
Questions? Comments?  BergBergBerg@Charter.net