Reprinted from the 1930 Wausau Winter Frolic brochure.
History of Wausau Ski Club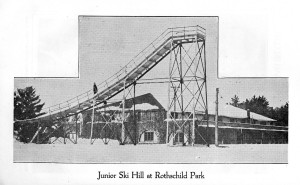 The Wausau Ski Club was organized in November, 1927, by a few ski enthusiasts, for the purpose of promoting winter sports, especially skiing. In December, 1926, the Wisconsin Valley Electric Company erected a ski slide, about forty feet high, at Rothschild Park. Wausau skiers enjoyed this slide immensely and many new ski jumpers were developed. Cross country skiing also became a popular sport, and Wausau has some of the best cross country skiers in Wisconsin.
The Wausau Ski Club had complete charge of all ski tournaments during the Winter Frolics of 1927, 1928 and 1929.
During the winter of 1928-1929, a small ski slide was erected on the west side of the Wisconsin River. The younger boys and girls have enjoyed this slide, and tournaments have been held for them each winter under the supervision of the Wausau Ski Club.
This season bids fair to become the banner year of the club.
Last fall forty acres of land were purchased by the club. The location of this property is three-quarters of mile from the street car line, on and south of Highway 52. With the backing of Wausau business men, a steel structure has been erected on the hill, facing north. This ski slide is one of the finest in the state of Wisconsin, and in size compares with the Westby ski slide, which is the biggest in the state.
Two straight toboggan slides have been laid out, each a half mile long, and one snake toboggan slide, about three-quarters of mile long, winds its way down the hill to the valley. It's a thriller and as soon as the snow has been packed the toboggan slides will be ready to use.
On February 9, 1930, the club will hold its first sanctioned annual tournament on its own hill and property. This tournament is sanctioned by the U. S. Central ski Association and the National Ski Association.
The ski club has assumed an indebtedness of eight thousand dollars in order to procure this property and up-to-date ski slide and expect to liquidate this debt by holding annual ski tournaments, at which the public will be charged a reasonable admission. Any surplus funds will be used to promote outdoor sports in Wausau and it is the desire of the members of the Wausau Ski Club to make it one of the finest amateur clubs in the state. The attendance at the tournaments and general co-operation and support of the public will assure the success of this project.
The officers of the Wausau Ski Club for the year 1927-1928 were: President, Otto Holmskog; secretary, Dr. H. R. Hopkins; treasurer, Phil Monson. For the season 1928-1929: President, Ben Berg; secretary, Russel Slade; treasurer, R. J. Burton. For the present season: President, Otto Holmskog; vice president, Hans Berg; secretary, Russel Slade; treasurer, Ben Berg.